Sponsored Ads
Crystal Peel Body Cleanser Review
Rated:
10

out of

10


by

BestAntiAging.org
Crystal Peel Body Cleanser exfoliates your skin using the perfect balance of physical and chemical exfoliates. By striking this balance, Crystal Peel Body Cleanser is gentle on your skin, but it is able to provide a deep cleansing to your skin. Used first thing in the morning and again at night, Crystal Peel will ensure that the skin you present to the world will be the most vital and healthiest. Crystal Peel is able to do this by removing impurities in and among healthy skin cells. It also removes dead skin cells so that when you face the day it is with your healthy and rejuvenated skin.
By striking the right balance between chemical and physical exfoliates, Crystal Peel works on even the most sensitive and delicate of skin types. Because of this formulation between the chemical and physical exfoliates, dermatologists have approved Crystal Peel Body Cleanser to safely cleanse your upper skin layers while nourishing the skin beneath. This allows those skin layers to shine. At the same time, Crystal Peel stimulates cell renewal which helps skin be healthier and look younger. Crystal Peel provides the all-in-one body cleanser that doesn't have an expensive spa visit as a prerequisite.
How to Use Crystal Peel Body Cleanser
After washing and drying your skin, apply a small amount of Crystal Peel Body Cleanser onto two fingertips. Gently massage the solution into your skin until it has been fully absorbed. For sensitive areas like under your eyes, lightly tap the cleanser into the skin. To achieve the best results, use first thing in the morning and right before going to bed.
Crystal Peel Body Cleanser Ingredients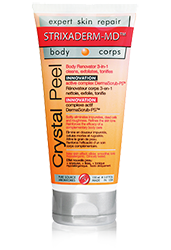 Amber Powder and Passion Fruit Seed Powder - Natural exfoliating agents that mechanically cleanse the skin's outer layers. These work to shed old layers of skin so that the healthy and youthful skin below is allowed to shine.
Florapearls - Micro-spheres of jojoba esters exfoliate to refine skin texture. Jojoba esters are natural esters that are closely associated with the natural oils the body produces and needs for healthy skin. The florapearls also give your skin a "rolling massage" that promotes healthy skin.
Glycolic Acid - This is a chemical exfoliate that cleans your skin of excess oils, pollutants, and dead cells that accumulate throughout the day.
Bromelain - This ingredient is found in pineapples. It is a natural enzyme that serves as an anti-inflammatory which helps rejuvenate and nourish skin.
Salicylic Acid - A plant hormone that is a derivative of aspirin, Salicylic Acid leaves skin soft and supple to the touch. This ingredient works for your skin by defending it from harmful pathogens.
Palmitoyl Oligopeptide and Palmitoyl-Tetrapeptide-7 - Improves skin tone and keeps skin looking and feeling young.
Crystal Peel Body Cleanser Benefits
Crystal Peel Body Cleanser provides a high-end spa quality cleansing treatment to you skin. This treatment maximizes your skin's health and beauty. It removes dead skin cells and pollutants from the skins' outer most layers while increasing the health of the skin cells underneath. By increasing cell turnover within the skin, your skin will look younger and healthier.
As one of the most gentle and effective exfoliates on the market for all skin types, try Crystal Peel Body Cleanser today.
September 2017 update: Unfortunately, it appears that this product has been discontinued. Please check out some of our other top rated products here.
Sponsored Ads