Sponsored Ads
Miracle Phytoceramides Review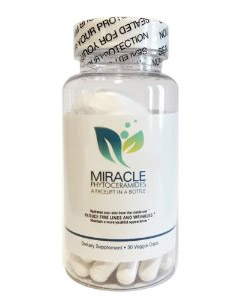 Once again, the health and beauty world is raving about the latest new wonder drug which promises to remove the signs of aging from your face in a way that was only previously thought possible through surgical means. This product is called Miracle Phytoceramides. If you take just one pill per day, the manufacturer claims that the active ingredients in the Miracle Phytoceramides formula will go to work on the deepest layers of your skin, rebuilding its underlying structure from the inside out. For you, the consumer, this means that your skin will grow smoother and suppler with fewer fine lines and wrinkles after only a few weeks of daily use.
But is the idea of taking a pill once per day to alleviate wrinkles too good to be true? Well, we'll go into detail with this exclusive article. There's some good news, but also some not-so-good news, and you'll want to know all of the facts before you make such an important purchase.
Miracle Phytoceramides Ingredients
The main ingredient in Miracle Phytoceramides is the eponymous phytoceramides. These plant-based lipid compounds are, according to some scientists, the reason that youthful skin looks so firm, supple, and wrinkle free. Conversely, a deficiency of these compounds is a contributing factor to the premature aging process.
For this reason, the manufacturers of Miracle Phytoceramides want to help you supplement your diet with all the phytoceramides you can handle. Their unique formula also comes with vitamins A, C, D, and E, which have been proven to be great for skin health in the past.
Unfortunately, you will probably have to contact the makers of Miracle Phytoceramides directly if you want the full list of ingredients. As of this writing, they have chosen not to disclose the full list on their website.
Didn't I See Miracle Phytoceramides on the Dr. Oz Show?
Technically, no. But you did see him talk about Miracle Phytoceramides's main ingredient, which is phytoceramides. As mentioned above, new scientific evidence suggests that phytoceramides might be the next best thing to getting a face lift, but without the typical risks that surgery often poses. And better yet, the average price for a bottle of these plant lipids typically runs about $10 for a 30-day supply, according to Dr. Oz's own website.
Buy Miracle Phytoceramides
Surprisingly, however, a 30-day supply of Miracle Phytoceramides runs as high as $50+ if you purchase directly from the manufacturer. The price per bottle drops if you buy in bulk, but the total cost for a 3-month supply (the "Moderate" package) and a 5-month supply (the "Monster" package) is not readily available on the website - at least, not before you give them your credit card information. So if you want to know the total cost, break out your calculator.
Some consumers will be relieved to find out that you can buy Miracle Phytoceramides from major retailers such as Amazon and eBay. And, yes, it tends to sell for much cheaper than what you'll find from the manufacturer. Additionally, purchasing from these websites might also be a better option if you're interested in any sort of money-back guarantee, because you're more likely to get it from an independent vendor than you are from the producers of Miracle Phytoceramides. There is no explicit guarantee on the Miracle Phytoceramides website for a full or even a partial refund in the event that customers are unsatisfied with their purchase.
Miracle Phytoceramides Complaints
The unnecessarily high price for buying Phytoceramides from Miracle Phytoceramides is the source of some customer complaints. Additionally, the BBB has resolved some complaints regarding problems with advertising, sales, billing, collection, and problems with the product and lists negative experiences with product quality and customer service.
Does Miracle Phytoceramides Work?
Miracle Phytoceramides may work, but there is no scientific evidence to back up the claims of this specific product. However, there are some clinical studies which support the efficacy of its main ingredient, phytoceramides. There are also tons of studies which purport the health benefits of vitamins A, C, D, and E for your skin. Unfortunately for Miracle Phytoceramides, there aren't any studies which examine whether or not all of the ingredients in their formula will work effectively together. As a consumer, you should also take into account that the people who make Miracle Phytoceramides are not backing up their claims with any sort of overt money-back guarantee, and that they are charging 5 times the average price for phytoceramides supplements. At best, such a purchase is a pretty risky gamble.
For more information on the best anti-aging products available, click on our reviews section!
Sponsored Ads