Sponsored Ads
Crystal Peel Facial Cleanser Review
Rated:
10

out of

10


by

BestAntiAging.org
Crystal Peel Facial Cleanser is a new facial scrub from Strixaderm MD. All day long your skin is bombarded with toxins, collecting dirt and grime, and accumulating dead skin cells as your body produces new skin cells underneath. This means that the face you present to the world is not only under attack from the elements, but that the face you present to the world is not your best. All of this dirt and grime and dead skin results in a face that is aging faster than it should and those tell-tale signs of aging are also exaggerated because of accumulating dead skin cells.
What is needed is a powerful cleansing exfoliate that will deep cleanse your skin while chemically and physically removing dead skin. Cleansing and exfoliating daily keeps your skin healthy and clean. It also reduces the signs of aging and slows the aging process.
With all of the products available, it can be confusing to know what product is the right one for you. To you help you find the right product for your facial cleansing needs, we are going to review Crystal Peel Facial Cleanser.
Crystal Peel Facial Cleanser Ingredients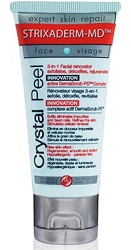 Strixaderm MD's Crystal Peel Facial Cleanser is dermatologist approved, and its major ingredients do the following:
DermaScrub-PS - Natural exfoliating agents that mechanically cleanse the skin's outer layers. These work to shed old layers of skin so that the healthy and youthful skin below is allowed to shine.
Amber Powder - all natural, this is another mechanical exfoliator that gently removes dead skin cells. This allows your new, younger skin cells to shine, and it gives your face a more radiant look.
Salicylic Acid - This is a chemical exfoliate that cleans your skin of excess oils, pollutants, and dead cells that accumulate throughout the day.
Bromelain - bromelain is a natural enzyme that is derived from pineapples! It works with glycolic acid and salicylic acid to chemically slough off dead and dry skin.
Tea Tree Oil - another popular natural cleanser. It has unique antibacterial and antifungal properties that provide a balancing effect on your skin.
Soybean Oil - a powerful antioxidant that serves as a collagen stimulator. By encouraging collagen, soybean oil improves elasticity which reduces wrinkles. Not only is it a powerful anti-aging ingredient, its antioxidant properties also serve to protect the skin from damage and water loss.
Few products provide the power included in Crystal Peel Facial Cleanser. However, Crystal Peel Facial Cleanser is one of a kind because it is safe to use daily on even the most sensitive of skin. It is also hypoallergenic.
Buy Crystal Peel Facial Cleanser
You can order Crystal Peel Facial Cleanser through the manufacturer's website as either a one-month supply or a multi-month package. Crystal Peel Facial Cleanser comes with a money-back guarantee to ensure complete satisfaction. If you purchase this cleanser and are not completely satisfied, simply return it and the manufacturer will actually give you a full refund!
Does Crystal Peel Facial Cleanser Work?
Crystal Peel Facial Cleanser really does work. This powerful cleanser not only removes dead skin and other particles, but it will leave your skin looking healthy and young. With the unique DermaScrub-PS formula, you will actually feel the florapearls as they gently remove the layer of dead skin.
September 2017 update: Unfortunately, it appears that this product has been discontinued. Please check out some of our other top rated products here.
Sponsored Ads